Tribute for our hero's at the NHS
The 100 metre grass painting, created observing social distancing guidelines was made to celebrate and thank all the NHS staff working on the front line to fight the Coronavirus pandemic.
Mowing the field & outlining the artwork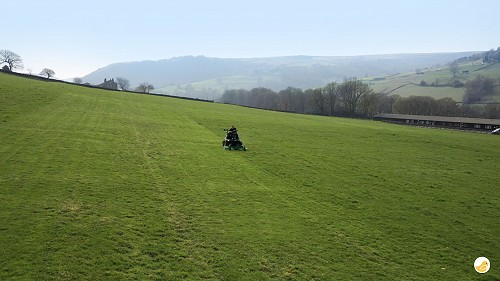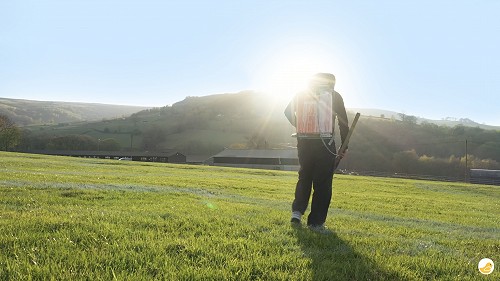 The solo piece of work by Jamie Wardley, Artistic Director and founder of Sand In Your Eye is made by spraying the grass with standard line marker paint which can be coloured. They can take a few days to make and use hand held and mechanical sprayers. The images are resistant to rain and last for a few weeks or until you cut the grass. If the current weather holds out hopefully this one will be here to stay a while.
The giant piece of land art has been finished in time for tonights 8 o'clock clap for carers that can be heard all over the UK. Make sure you join in and give all the key workers a round of aplause. Thornber are proud to have Sand In Your Eye as tenants and look forward to many more years seeing what else they create.
Work in progress & the final piece of land art!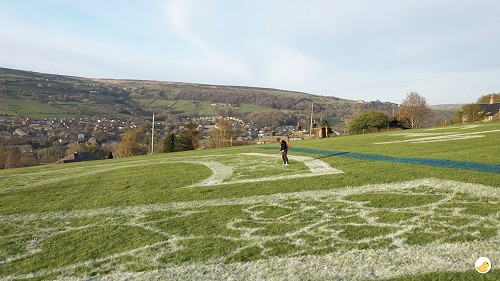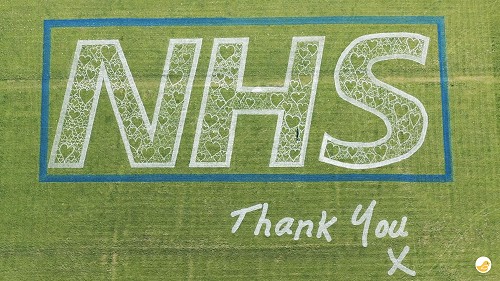 Sand In Your Eye make sand sculptures, ice sculptures, pumpkin carvings, sand drawings and now land art. In 2019 they collaborated with Danny Boyle and 14-18 NOW on 'Pages of the Sea' where 30 faces were drawn into the sand nationally to commemorate 100 years since Armistice Day. The project was awarded the 'Best Visual Art Award' by The South Bank Sky Arts Awards.
More recently and locally they helped school children create a 60 metre portrait of Greta Thunberg to celbrate Internation Womens Day 2020