Veganuary doesn't just have to be about food.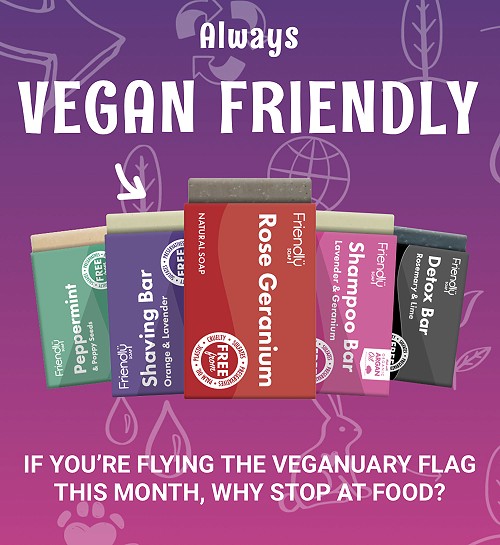 New Year's resolution & good intentions for the New Year
Starting out 2022 by doing Veganuary? why not try changing a few lifestyle choices as well as diet? Friendly Soap offer a great range of handmade frangranced body soap like orange & grapefruit and peppermint & poppy seed to name a couple. They also offer great alternative choices to mass produced brands for haircare & laundry as well as fragrance free alternatives. Using their products will not only leave you smelling great but ensures your wash regime is plant based and not tested on animals.
Making soap the friendly way
There products are amazing, yes we have tested a fair few ourselves! Their whole range contain no animal products or by-products, and have never been tested on animals. Some of the soaps contain poppy seeds and hemp bran and have no mirco-beads in sight, they are totally biodegradable and free from by-products, which means they create zero waste and aren't harmful to the environment. Still need conviencing? 100% of their packaging is recycled as well as recyclable.
Feel good factor
Right now if you spend £30 you get 15% off (none sale items) They will also plant 3 trees, rescue 8 plastic bottles and offset 10kg of carbon. That's alot to feel good about, don't you think? Click HERE to visit their website to shop online today!